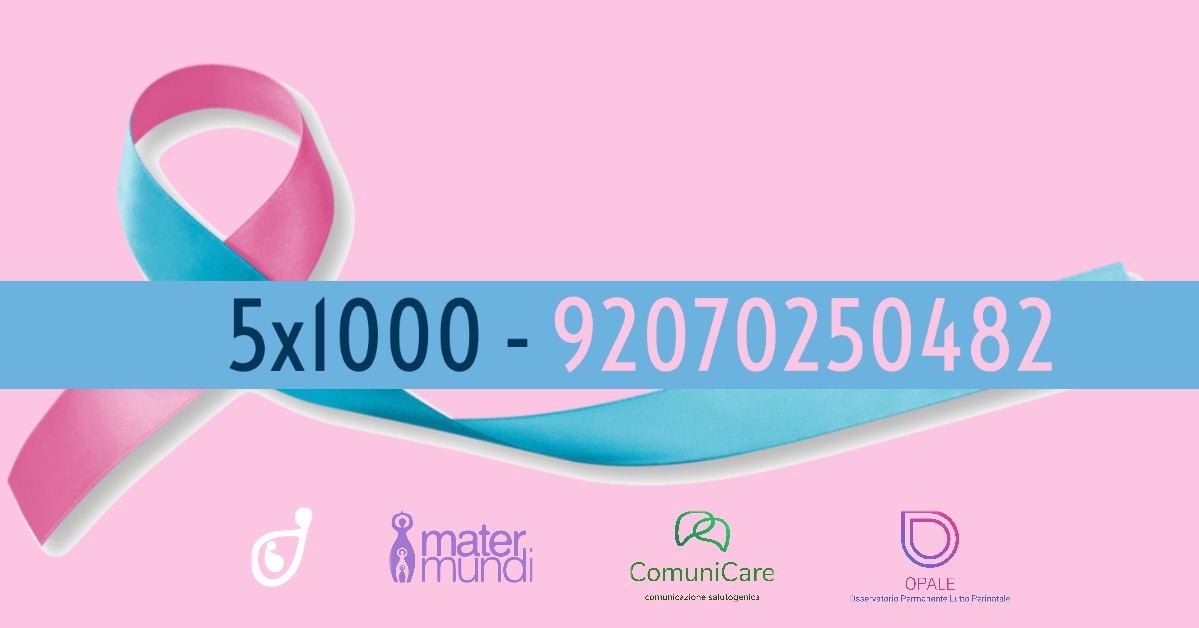 From grief to hope after perinatal bereavement
Thanks to 5×1000, let's together promote #knowledgethatprotects and improve the culture, expertise and care of perinatal bereavement. Here is our code as a Social Promotion Association: 92070250482
Since 2006, we have offered support to anyone, for whatever reason, who is affected by the loss of a baby during pregnancy or after birth.
We strive to facilitate grief processing and prevent the risk of its medium- and long-term complications. We offer support for post-loss pregnancies and parenting.
We train hospital workers from birth points, neonatal intensive care units, and perinatal area students during their course of study: training workers promotes grief processing, prevents complicated bereavement, and lowers the risk of post-traumatic disorders.
We actively promote perinatal health, understood as the physical, psychological, and social well-being of women, couples, and families in the event of loss and subsequent pregnancy.
We actively promote "respecftul care" in Italian hospitals, oppose obstetrical violence, and believe that every woman always has the right to appropriate and respectful care during her pregnancy, childbirth, and puerperium even if complications arise related to the health of the unborn child or woman.
Through #knowledgethatprotects and our advocacy and psychoeducation activities, we promote resilience in women, men, families affected by loss in pregnancy or after birth, and health workers involved in care.
We promote resilience by providing bereaved parents and family members with a space for discussion, exchange, and reflection by providing many tools, such as books, articles, films, art resources, and workshops.
Resilience is the resource that enables people affected by perinatal bereavement to take one's time necessary and make use of all useful tools to process perinatal grief in respect of one's situation, so that one can cope with new parenting (gut, heart or symbolic) with hope, love and well-being.
Having a community and society prepared for the issues of grief and perinatal bereavement fosters resilience.
How do we use your 5X1000?
We help couples in their grieving journey through free informational materials, the confidential mutual-help forum, our online groups, and email and platform counseling.
We train perinatal area workers with dedicated training courses.
We give hospital workers specially designed kits for collecting memories.
We make available to the entire community educational materials and informational handouts on various aspects of perinatal bereavement and appropriate support.
We stimulate institutions to encourage the adoption of correct diagnostic and therapeutic protocols in all Italian regions.
We promote awareness and adoption of current laws regarding the rights of people affected by perinatal bereavement.
The reports of the expenses incurred with the five per thousand funds, as sent annually to the Revenue Agency, are available in the ' Documents ' section of the site, together with the budgets of recent years and detailed reports of the activities supported.
What is the 5X1000?
Donating the 5X1000 is simple, involves no additional cost for the taxpayer and can make a difference for many people!
In the form of your tax return there is the section 5×1000.
Simply enter CiaoLapo's Tax Code: 92070250482 in the Social Promotion Associations box.
Thanks!